Note: Until 2013 journal's title was Journal of the Washington Institute of China Studies.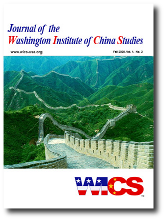 First of all I would like to announce a change to our Board of Directors. We noted the death of Major General Bruce Jacobs in our last edition. We announce his replacement Lieutenant General Max W. Noah (retired). General Noah has served in various engineering position and financial position during his Army career. He finished his Army career as the top financial manager for the US Army. His vast experience will be a great help in indentifying key area for us to explore in future issues. The addition of Gen Noah and Dr. Jiawen Yang, professor of International Business at the George Washington University significantly increase the analytical and evaluation capabilities of my Board which should enhance the value of our efforts to provide our readers with improved articles for publication.
Table of Contents
Editorial
| | |
| --- | --- |
| Editor's Statement | PDF HTML |
| Bernard T. Pitsvada | i |
Articles
Inside cover pages
This work is licensed under a
Creative Commons Attribution 3.0 License
.
(c) Washington Institute of China Studies
We encourage you to visit CEOpedia - The Management Online