Note: Until 2013 journal's title was Journal of the Washington Institute of China Studies.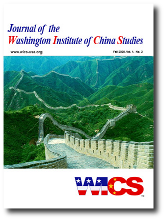 This issue opens up with in overview of reform in China and the difficulties China faces in achieving it. The author introduces a new concept in public administration, that of "pathological government". Because this concept has a negative connotation of governmental performance most PA journals do not care to touch it. But it remains more real in the 21st century than "market failure" which has been since the latter half of the 20th century a rationalization for expanding the role of government and spending more taxpayer's money in pursuit of buying votes and staying in power. This journal will keep the concept of "pathological government" on our agenda in future editions.
Table of Contents
Editorial
Articles
Inside cover pages
This work is licensed under a
Creative Commons Attribution 3.0 License
.
(c) Washington Institute of China Studies
We encourage you to visit CEOpedia - The Management Online