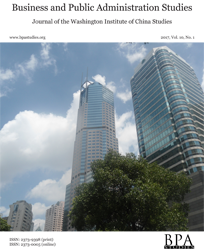 This current issue of BPA Journal is also an overdue labor of love and endurance. We are still exploring both ways and means to expand the Regional Editors. We have lost our China Editor, who accepted a fulltime position at a major university. We are actively seeking a replacement. Our other major goals include: grow more active readership and contributions from policy makers, professionals and aspiring academics.
Table of Contents
Editorial
Articles
Reviews
This work is licensed under a
Creative Commons Attribution 3.0 License
.
(c) Washington Institute of China Studies
We encourage you to visit CEOpedia - The Management Online