Note: Until 2013 journal's title was Journal of the Washington Institute of China Studies.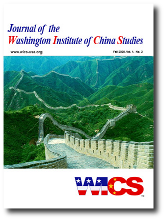 We begin on a quarterly basis for the Journal of WICS for 2008. We hope to receive interesting manuscripts from our readers that will enable us to continue to publish articles on diverse topics that reflect issues of importance to the US and PRC.
Table of Contents
Editorial
Articles
Inside cover pages
This work is licensed under a
Creative Commons Attribution 3.0 License
.
(c) Washington Institute of China Studies
We encourage you to visit CEOpedia - The Management Online