Anti-Corruption Reforms from a Global View: An Initial Attempt of Comparing Italy to China
Maria Laura Seguiti

University of Cassino
Abstract
Under globalization, because of the growing political and economic interdependence among nations, the rapid integration of financial markets through digital technology, and the expanding worldwide network of inter-firm agreements with an increasing portion of the world economy in the hands of transnational corporations, corruption has become a global issue. Corruption today can spread easily through the porous borders of the nations with the help of technology. In many cases it can hardly be detected. The same traditional widely accepted notion of corruption as "misuse of public power for private gains" has broadened.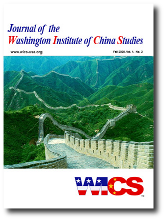 The journal is published under the terms of the Creative Commons Attribution (CC BY) License which permits use, distribution and reproduction in any medium, provided the original work is properly cited.
Copyright on any research article in a journal published by a Journal is retained by the author(s). Authors grant Washington Institute of China Studies a license to publish the article and identify itself as the original publisher.
The Creative Commons Attribution License (CC BY) allows users to copy, distribute and transmit an article, adapt the article and make commercial use of the article. The CC BY license permits commercial and non-commercial re-use of an open access article, as long as the author is properly attributed.