The Spratly Islands: A Regional Perspective
Daniel Livingstone

Penn State University
Abstract
The unprecedented and massive developmental growth China has experienced in the past decades has in fact transformed a country from a third-world overpopulated Asian state, to one of the most influential nations since the rise of the United States after World War II. China now faces the classic dilemma of maintaining its developmental growth and economic progress. It has been predicted that China's overall economy could grow at 9 percent per year for the next 20 years.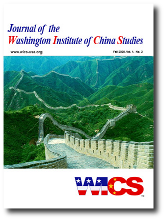 The journal is published under the terms of the Creative Commons Attribution (CC BY) License which permits use, distribution and reproduction in any medium, provided the original work is properly cited.
Copyright on any research article in a journal published by a Journal is retained by the author(s). Authors grant Washington Institute of China Studies a license to publish the article and identify itself as the original publisher.
The Creative Commons Attribution License (CC BY) allows users to copy, distribute and transmit an article, adapt the article and make commercial use of the article. The CC BY license permits commercial and non-commercial re-use of an open access article, as long as the author is properly attributed.