The journal focuses on business, public administration, management, economics, policy making and other problems related to contemporary organizations management. Until 2012 it was published under title Journal of the Washington Institute of China Studies.
Vol 10, No 1 (2016)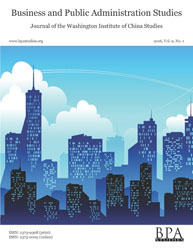 Our current issue of Business and Public Administration Studies (BPAS) continues to experience a mix of joyous growing pains with continuous concerns and search to expand Editorial Board to best serve the needs of readers and contributors..
Table of Contents
Editorial
Articles
Reviews
This work is licensed under a
Creative Commons Attribution 3.0 License
.
(c) Washington Institute of China Studies
We encourage you to visit CEOpedia - The Management Online